Founded in 1976 by Robert Bein and Geoffrey Fushi, Bein & Fushi is one of the world's premier violin dealers and restorers. Bein & Fushi offers a broad selection of authentic violins, violas, cellos, and bows ranging from excellent modern instruments to the finest Stradivari and Guarneri del Gesł violins. Hallmarks of the outstanding service provided by Bein & Fushi include reliable expertise and appraisals, fair prices, and world-class workshops. Musicians and collectors the world-over choose the Bein & Fushi Certificate of Authenticity — they know they can sell or purchase their instruments from Bein & Fushi with confidence.
Bein & Fushi's international clientele includes many of the world's most distinguished musicians: Itzhak Perlman, Yo Yo Ma, Issac Stern, Gil Shaham, Joshua Bell, Nigel Kennedy, Anne-Sophie Mutter, and Gidon Kremer among many others.
Bein & Fushi is very proud to have founded and operate The Stradivari Society, which, over the last decade, has helped some of today's leading young musicians advance their careers by making it possible for them to have the use of the finest instruments. To find out more about the Society, please visit its web site at www.stradivarisociety.com.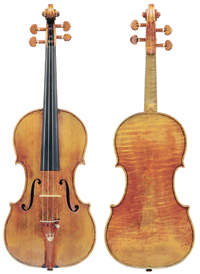 A Violin by Giuseppe Guarneri del Gesł,
Cremona, 1737, "King Joseph"
We work in close collaboration with the world-renowned master craftsman John K. Becker, the foremost restorer and adjuster of the finest rare, antique instruments. The firm also frequently collaborates with the eminent cello restoration expert Russell Wagner of Chicago Celloworks.

Bein & Fushi fosters new instrument making and is closely affiliated with several modern masters: John Norwood Lee, maker and restorer of fine bows; violin makers Tetsuo Matsuda and Michael Darnton; and cello maker William Whedbee.


The company's elegant antique and memorabilia-filled showrooms overlook beautiful Grant Park and Buckingham Fountain and are located on the 10th floor of Chicago's historic Fine Arts Building at 410 South Michigan Avenue. Bein & Fushi also offers a full range of accessories, recordings, and books, which are available at our shop and by mail.
Our experienced and expert sales staff — Gabriel Ben-Dashan, Alec Fushi, Michel Samson, and Marc Silverstein — travels regularly throughout Europe, Korea, Japan, and the United States. Appointments can be made through our Chicago office.
Please let us know of your requirements and we will do our utmost to find just the right instrument or bow for you.