<![if !vml]>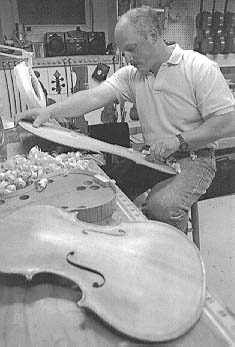 <![endif]>Hello, and welcome to my website. My name is Joseph Conrad and I have been building instruments since 1986. I studied with Dr. Carleen Hutchins, who brought to me her large volume of knowledge and understanding of instrument making and sound production. In the building of my instruments, I try to marry the best of modern techniques to the tradition of Italian craftsmanship, producing instruments that have an outstanding sound.
I build violins generally of two patterns, Stradivari and Guarneri. These patterns seem to have the most predictable results. I also build instruments on commission as well as other patterns. The wood that I select for my violins is from 70-100 years old and has exceptional tonal qualities as well as being visually beautiful.
<![if !vml]>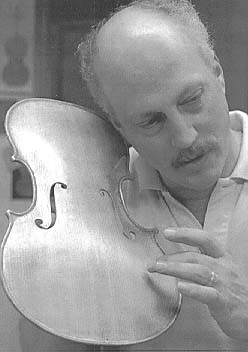 <![endif]>My violas range in sizes from 16 3/8 inches down to 15 1/2 inches and are a combination of designs. With some select old wood, the results have been well received on concert stages across the country. They are a nice combination of playability, power and tone.
My cellos are built from three patterns a Montagnana, a Gofriller and a small Stradivari pattern. These seem to yield the best of both worlds, in power and tone. I have been lucky that some fine old wood has been made available to me to build these instruments, and they have been well received.
Some Quotes:
" I enjoyed playing the violin and viola you made. They are among the best new instruments I've tried and among the best I've played PERIOD! The sound of both instruments is bright and has carrying power. They are also easy to play and speak quickly. I hope to someday own one or two of your instruments" George

Marriner

Maull

Music Director Conductor--Philharmonic Orchestra of New Jersey
" I love my instrument, it's so easy to play, with a very even and smooth sound. The power and ease of playing is amazing." Donna Cain Professional violist and string pedagogue.
" Wonderful sound, beautiful instruments. They speak so easy, so easy to play." Ruth Kahn

Siderman

Professional violist and string pedagogue.
"I have always admired the instruments you have built and will continue to recommend your shop to our students." Barbara Barstow, Artistic Director, New Jersey Youth Symphony
If you are ever in town, please feel free to come in and try a few instruments and form your own opinion. Violins ranging from $6,000 to $7,000, Violas $7,000 to $8,000, and Cellos $12,000 to $14,000.
Also Now available are the Octet instruments of the Hutchins Octet available in limited supply, so please feel free and call to see what I have and what I am working on as well. I build the Treble violin, Soprano violin, Mezzo violin, Alto violin, Tenor violin, and Baritone violin. To learn more about the Octet please check out the web site of the New Violin Family Association for more information on these wonderful and exciting instruments.
Coda Bow dealer call or email for price and availability.
see us on Facebook at:
http://www.facebook.com/pages/Joseph-F-Conrad-Jr-Luthier/244008658984939
My shop is located in Bound Brook, NJ USA and I can be reached by phone at 1-732-801-3111 or email me at either: violins2@msn.com or violinmaker2@gmail.com.
Thank you for visiting my web site. Joseph F. Conrad II, Luthier.