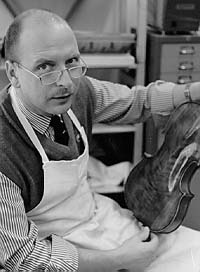 Baumgartner has been a well known name in violin-making circles for the last 80 years. Fritz Baumgartner senior opened his business in 1920 in Basel, Switzerland; his son, Fritz junior succeeded him, and the taught his own son Roland and younger son Michael.

Roland Baumgartner realised early on that Switzerland on its own was a fairly limited field, and he sought out professional contacts abroad. Many short, any many longer journeys to France, England, Germany, Italy and the USA gave him the chance to expand his knowledge and experience, and he set up his own company in Basel in 1974.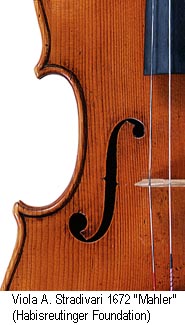 The firm specialises in repairs, restorations and dealing, in stringed instruments and bows; Roland Baumgartner certificates of authenticity are respected world-wide, and verbal or written appraisals are issued for private or insurance company use. He has several publications, co-publications and lectures to his credit, and also served as a judge on numerous international violin-making competitions in Cremona, Paris, Mittenwald, USA, etc. He was a member of the "Comitato d'honore" for the Stradivari Exhibition in Cremona in 1987. As an active member of the International Society of Violin and Bowmakers, EILA, (President 1991 - 1993) he keeps in touch with experienced colleagues from all over the world, and is thus able to keep abreast of all new developments, vital for enhancing knowledge.
For the last ten years, Gertrud Reuter has been the workshop's most important assistant. Trained at the violin-making school in Mittenwald she received her master degree in Stuttgart in 1991. Gertrud Reuters commitment is in line with her responsible attitude to her vocation, and her good technical qualifications. Currently trying to construct a new instrument, in spite of the shortage of time due to pressure of work, she nevertheless draws her inspiration from the many old master instruments which pass through the workshop of Roland Baumgartner.
A wide selection of instruments and bows is available, as customers requirements vary from correctly set up instruments for beginners, through better quality items for advanced players, right up to the finest old master instruments from the Italian school.
Visit our New German Language Site
http://www.geigenbau-baumgartner.ch


Atelier für Geigenbau
Roland Baumgartner
Innere Margarethenstrasse 10
CH-4051 Basel/Switzerland

Phone: +41+61 226 91 91
Fax: +41+61 281 49 34
Email: roland_baumgartner@swissonline.ch